It's no wonder that Black Friday can be an equally incredible opportunity for startups, small businesses, and established brands to get more customers and boost their revenue. In the chaos and carnage that ensue the epic four-day splurge, shoppers exuding the right spirit of blessed capitalism, seem to be running a shopping spree marathon. The cyber weekend is one of the biggest shopping weekends of the year that serve an amazing opportunity for online marketers to attract a large number of shoppers on their website and convert them into qualified leads.
Hundreds of thousands of consumers are looking for discount offers and exciting deals, which make online marketers invest their best possible efforts towards creating holiday marketing campaigns, winning SEO strategies, impressive landing pages, and engaging Black Friday content to stay ahead of the curve.
By offering enticing holiday season deals and knowing how to promote your offers effectively can help you drive more traffic and Black Friday sales. Here are some workable Black Friday and Cyber Monday marketing strategies that online marketers looking to grab the tail of this Black Friday comet should adapt to augment their sales and traffic.
1. Create Landing Pages
There is no denying the fact that landing pages are one of the most effective ways to attract more and new customers to your business website and promote your holiday-specific shopping deals to them. Designing dedicated landing pages can help brands rank against popular Black Friday keywords, embed interactive and engaging content, and leverage catchy calls-to-action to persuade shoppers to take the desired action. You can create a profound sense of urgency in Cyber Monday/Black Friday landing pages by informing your visitors that it is a limited time offer that will expire soon.
Let's take the example of Sage.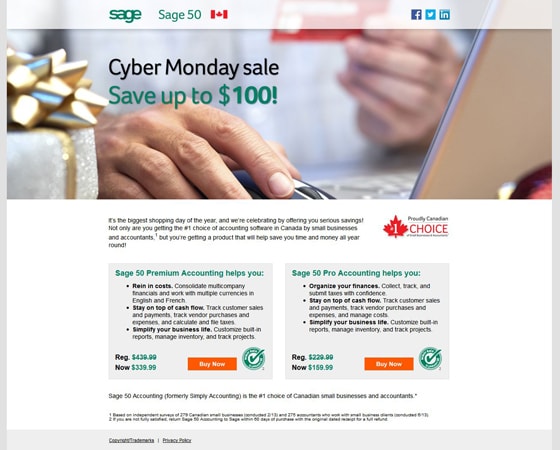 The brand that sells account software already has a successful landing page that is generating a substantial number of conversions. So, they just made some minor tweaks to their basic landing page and changed the background image and headline to go with their Black Friday promotional deals.
Have a look at Vimeo's landing page.
The brand cleverly used their promotion code CYBORG at their landing page and clearly mentioned what they are bringing to the table for the holiday season.
2. Create Engaging Seasonal Content
Investing your efforts in creating interactive seasonal content early is a great idea to keep your brand top-of-the-mind when the time comes to making purchase decisions on Black Friday weekend. It is advised to launch your landing pages and holiday marketing campaigns at least a month beforehand. You can create seasonal content including holiday gift ideas and other interesting topics which provide useful information to shoppers and make it easier to buy products of their own choice.
To find the specific query your target audience is searching for this holiday season, use Google AdWords to find the seasonal keywords. Or simply check Google Trends and BuzzSumo to spy on which topics your users are searching for. This way, you can come up with a perfect seasonal content marketing strategy and create interesting infographics, blogs, and videos that will stand out from the rest. The key is to start planning your seasonal content strategy and promotional offers at least three to four months ahead of time, so you have enough time to think, write and post strategically.
Remember that content marketing is an excellent tactic to give your brand a boost during the holiday season. With a pinch of creativity, diligent planning, and perfect timing, you can make the most of your seasonal content.
3. Create an Effective SEO Strategy
It's a worthwhile idea to optimize your SEO strategy for the holiday season to make your website stand out in the SERPs. All you need to do is to carefully resolve your 404 error pages and place 301 redirects on all your broken links. It is important to make sure that your hosting server is efficient enough to handle high visitor traffic without buckling under the strain.
Conduct an in-depth keyword research and leverage the most highly searched terms in tandem with your brand, product or services to devise your organic search strategy. When you focus on long-tail keywords that entail brand terms, specific product names, competitive pricing offers such as discounts, deals, coupons and offers, it will become easier for you to ensure a top Google ranking, which eventually drives more visitors to your website and maximize conversions.
4. Invest in Paid Marketing
An effective way to promote your seasonal content and holiday landing pages is to advertise them on social and search. Investing in retargeting campaigns is a great idea to capture the interest of people who have already visited your page but didn't take a purchase decision. Whether you are putting your efforts into paid search campaigns, digital campaigns or retargeting campaigns, it is important to create a compelling ad copy that can persuade users to take the action.
5. Create Social Media Marketing Campaigns
Social media is the most effective and result-oriented platform that brands can use to promote their products and services and reach out to a wider audience. You can create Black Friday and Cyber Monday marketing campaigns to connect with your audience at an emotional level. In fact, advertising your brand through social media marketing campaigns will help you receive the highest engagement, create brand awareness and increase your user base. You can use social media to feature user-generated content, personalized videos that explain the benefits of your products, run contests and offer a reward program for getting more engagement and shares for your holiday deals.
Wrapping Up
Black Friday and Cyber Monday is an incredible time for brands to drive significant sales. Implementing these strategies in your holiday marketing strategy will help you make the most of this revenue magnet. Good luck!